Roll-Off machine
Roll-Off Machine helps for raising the manufacturing quality and the working efficiency
Fabric has variety of lengths on weaving process, therefore,「Roll-Off process」which roll-off fabrics and connect fabrics in front of the continuous machine affects the operation rate and the manufacturing quality of the subsequent machine.
We provide you a Roll-Off machine according to the features which is from simple one to the one up the efficiency for the next process.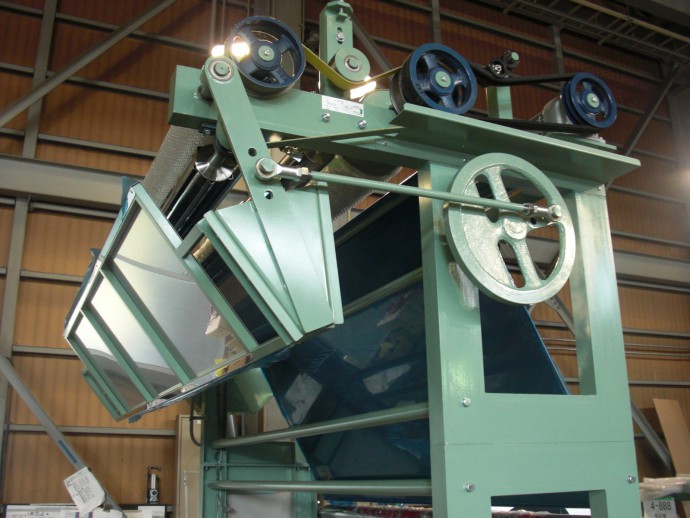 Suggestion of Roll-Off Machine according to the working process and fabric feature.
The fabric come to dyeing process through the weaving process is put in being wound on a paper tube or aluminum tube. (Usually 50m ~200m unit, sometimes 1000m unit)
When continuous processing is done, we joint this roll in the sawing machine and put in the process of scouring and set.
To roll-off the fabric and connect it for putting efficiently in this continuous process is the 「Roll-Off process」.
The 「Roll-Off process」affects to the operation rate and the processing quality of subsequent device, therefore many factories are using the Roll-Off machine in off-line.
We provide all customers a Roll-Off machine according to the feature, which is from a simple type such as Roll-Off~Connect~Plate-Down many used for cotton, T/C, and PET textured yarn fabrics until the type which can be increased the efficiency for the next process by rewound to large wound from small one of Polyester taffeta and Nylon taffeta etc.
Eagle Roll-Off Machine is realized the improvement of significant efficiency.
We suggest the Eagle Roll-Off machine to a customer requested "Limited space in factory""Running 2 machines by 1 operator"
It's realized the efficiency for 2 machines by 1 operator of Dual Bucket (Rotation type) System and Dual Plait Down System.
This machine can get 1.5 – 2 times of production efficiency by simultaneous work of operating 2machines(Joint, Roll-Off)
Plate-Down type




Winding type




Eagle Roll-Off Machine


View video

Delivery Records
Roll-Off Machine
Eagle Roll-Off Machine
period
number
period
number
1981-1990
5
1981-1990
2
1991-2000
32
1991-2000
24
2001-2010
12
2001-2010
3
2011-2019
6
2011-2019
0
55
29