Jigger Dyeing Machine
Production by best specification to match the fabric's material.
Since the Jigger is a very simple machine, it is important to determine the drive system and the layout of the roll after sufficient hearing with customers.Besides, depth of the dyeing liquor tank, air-tightness and air layer temperature etc, we will optimize them to your processing method.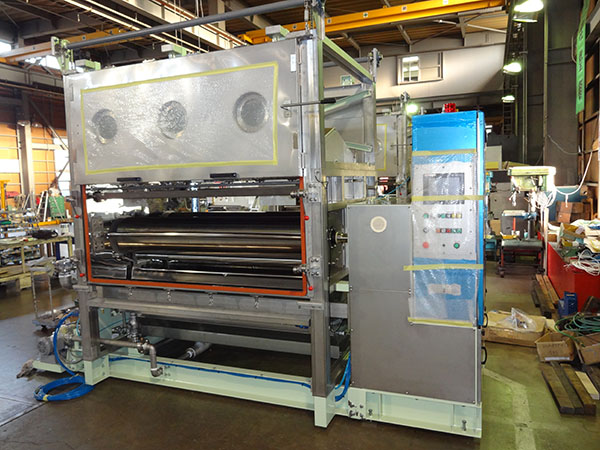 Hanayama Jigger is without impairing the quality of the fabric and good level dyeing.
For dyeing is winding the fabrics you want to dye to a single roller and on the way to take up the fabric on the other one of the rollers, it's a way to dye under the fabric in dyeing liquor.Once wound up the whole fabric, rotate in the reverse direction and again it's in dyeing liquor while also taking up to the original roller.This is repeatedly dyeing several times.
The state of the fabric between the rollers affects the finish, therefore the tension management is very important.
It is used in the dyeing process of dyeing and finishing, mainly dyeing of nylon fiber (ordinary pressure), dyeing of polyester fiber (high pressure), scouring and bleaching of cotton, treatment the discharge color etc for other modifications.It is featured by dyeing without making wrinkles such as impossible in the mainstream of jet dyeing.
Easy to control the tension management vary by material.
The finish of our Jigger is stable, because the digitized number of tension applied to the fabric can be preset the settings data that vary by each fabric to the computer.It is good usability, because it can with the specifications to match your demands and the operation is easy.In addition, JEX22 that equipped with two motors is by driving two axes in each of the motor and controlling the tension in the dancer.So, it can be dyed with any tension and the tension of fabric during operation is very small.
It's good at dyeing of the material of high density thin fabric.
Jigger was born in Europe and it was for large-volume processing of scouring and bleaching of cotton.Our company has a history that has been finished this to dyeing dedicated nylon and our ordinary pressure jigger has already equipped with elements needed for nylon dyeing.Taking the balance of levelness and mass production, it is good at dyeing of the material of high density thin fabric.
Our maintenance and follow-up is thorough, because we are a Japanese manufacturer.
Many manufactures of jigger are located overseas, so it is difficult to correspond at the time of failure at current situation.Not only our jigger is failure difficult, but also the parts built into the machine are easy procurement. Thus, it's easy to maintenance even if you have troubles and it will not disturb your production process.
Delivery Records
Ordinary Pressure Jigger
High Pressure Jigger
period
number
period
number
1981-1990
54
1981-1990
1
1991-2000
141
1991-2000
5
2001-2010
23
2001-2010
7
2011-2019
8
2011-2019
1
226
36